Fresh Peach Juice Recipe in Hindi - आड़ू का जूस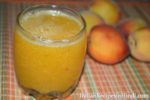 Ingredients
आड़ू (peach) - 5
ठंडा पानी (water) - 1 गिलास
चीनी (sugar) - 2 बड़ा चम्मच
काला नमक (black salt) - ½ चम्मच
काली मिर्च (black pepper) - ¼ चम्मच
Instructions
आड़ू को धो कर काट लें और बीज निकाल दें।
मिक्सर में आड़ू, चीनी, काला नमक, काली मिर्च और ½ ग्लास पानी डाल कर ब्लेंड करें।
मिक्सर में बाकी पानी डाल कर ब्लेंड करें। (अगर गाढ़ा लगे तो थोड़ा और पानी डालें)
छलनी से छान लें और सर्विंग ग्लास में डाल कर सर्व करें।
Peaches Juice Recipe in Hindi – Aadu ka juice kaise banaye:
How to make Peach Juice (आड़ू का रस Banane ki Vidhi) Step by Step Guide Hindi mein:
Aadu ko dho kar kat lein aur beej nikaal dein.
Mixer mein aadu, cheeni, kala namak, kali mirch aur ½ glass paani daal kar blend karein.
Mixer mein baaki paani daal kar blend karein agar gaadha lage to thoda aur paani daalein.
Chalni se chaan lein aur serving glass mein daal kar serve karein.
Save
Spread the Love - Share Our Recipes