Aam Panna Recipe in Hindi – आम पन्ना बनाने की विधि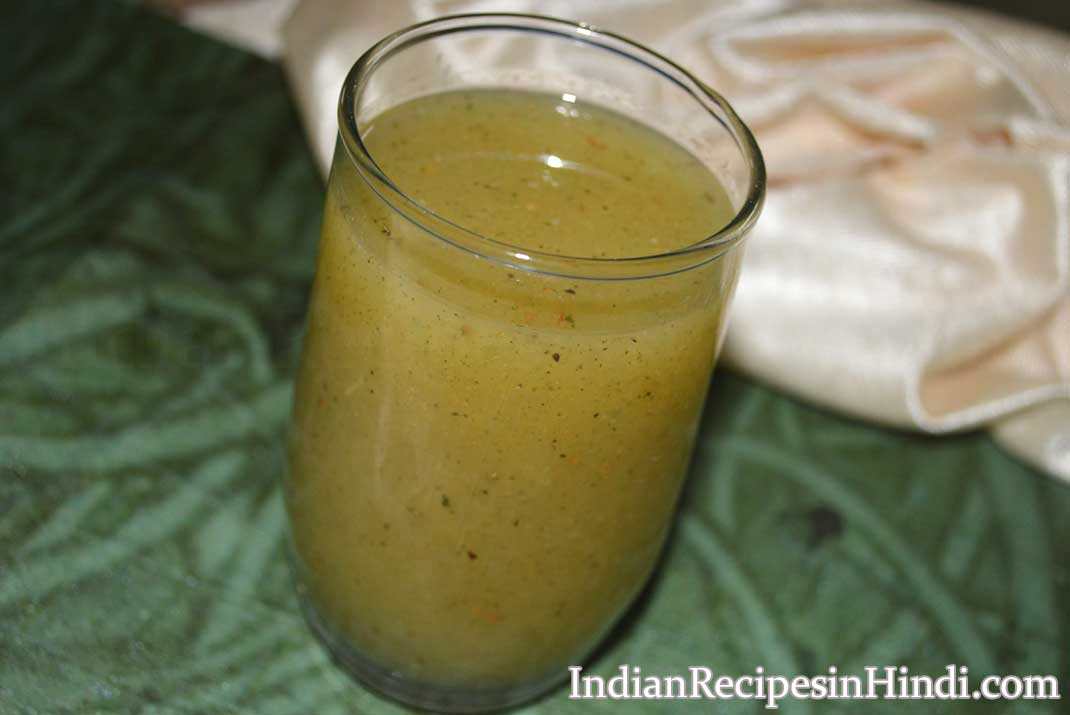 Ingredients:
कच्चे आम/ कैरी/ अंबी (raw mango) – 1 किलो
चीनी – 250 ग्राम
काला नमक – ½ चम्मच या स्वादानुसार
काली मिर्च – ½ चम्मच
पुदीना पाउडर – ½ चम्मच
भूना जीरा पाउडर – ½ चम्मच
Instructions:
कच्चे आम को अच्छे से धोकर छील लें।
एक बर्तन में आम का गूदा निकाल कर 1 ग्लास पानी के साथ 15 से २० मिनट उबाल लें।
जब आम गल जाए तो उतार लें।
ठंडा होने पर 3 गिलास पानी, चीनी, नमक, काली मिर्च, भूना जीरा पाउडर और पुदीना पाउडर मिलायें।
बलेंडर या मिक्सी से पीस लें।
अगर आम का पन्ना आपको गाढ़ा लगे तो और पानी मिला लें।
ठंडा ठंडा आम का पन्ना सर्व करें।
Aam Panna Recipe in Hindi – आम का पन्ना Kaise Banaye:
How to make Mango Panna (आम पन्ना Banane ki Vidhi) Step by Step Guide Hindi mein:
Kacche aam ko acche se dhokar cheel lein.
Ek bartan mein aam ka gooda nikaal kar 1 glass paani ke saath 15 se 20 minute ubaal lein.
Jab aam gal jaaye to utaar lein
Thanda hone par 2 se 3 glass paani, cheeni, namak, kali mirch, bhuna jeera powder aur pudina powder milayein.
Blender ya mixi se acche pees lein.
Agar aam ka paana aapko gaadha lage to aur paani mila lein.
Thanda thanda aam ka panna serve karein.
Spread the Love - Share Our Recipes