Eggless Strawberry Cake Recipe – स्ट्रॉबेरी केक रेसिपी | How to make Strawberry Cake in Hindi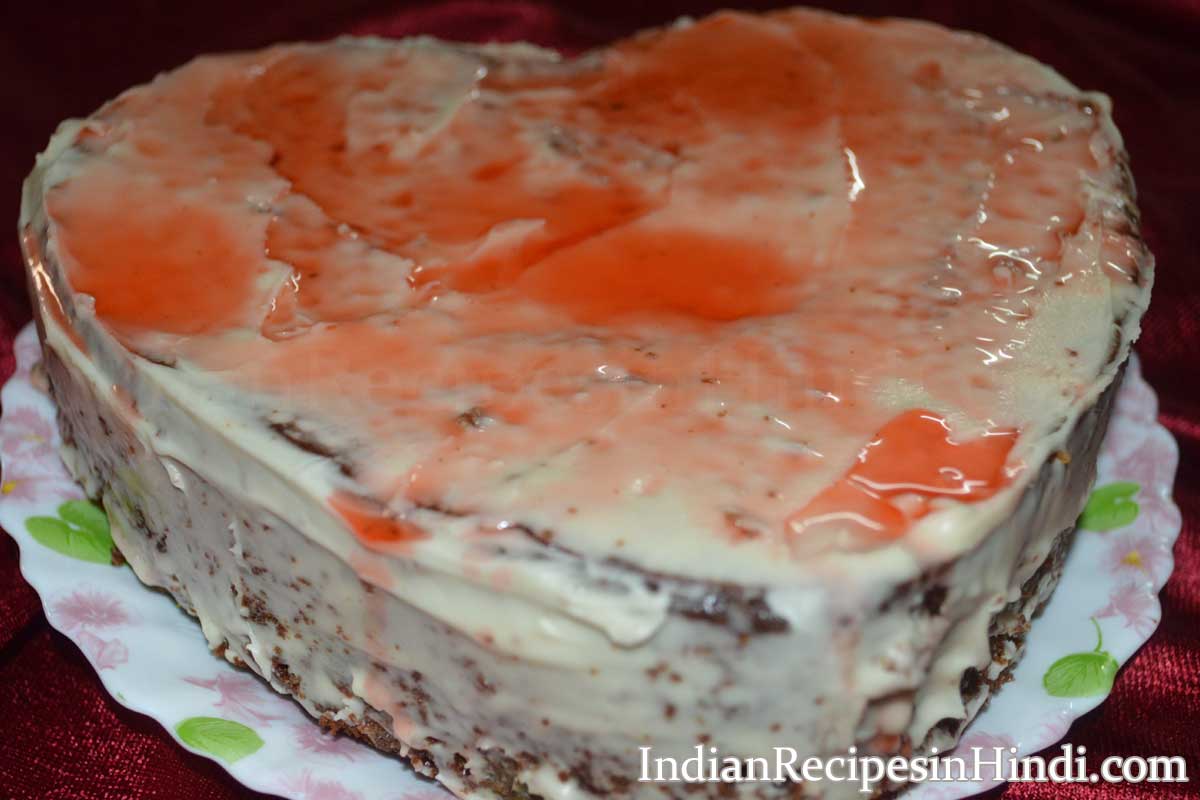 Ingredients:
मैदा – 1 + ½ कप
बेकिंग पाउडर – 1 चम्मच
बेकिंग सोडा – ½ चम्मच
नमक – 1 चुटकी
ताज़ी स्ट्रॉबेरी – 2 कप, प्यूरी बनाई हुई
चीनी – 1 कप
तेल या बटर – ½ कप
वेनिला एसेन्स – 1 चम्मच
Instructions:
ओवन को प्रीहीट कर लें।
एक बर्तन में सभी सूख सामग्री, मैदा, बेकिंग पाउडर, बेकिंग सोडा, नमक को मिला लें।
एक अलग बर्तन में तेल या बटर को अच्छे से मिला लें।
स्ट्रॉबेरी की प्यूरी को तेल और चीनी में मिलाएं।
आधा आधा करके सूखी सामग्री को तेल चीनी के मिश्रण में मिलाएं। बैटर को ज़्यादा फेंटे नहीं।
ज़रूरत अनुसार दूध मिला कर न ज़्यादा पतला न ज़्यादा गाढ़ा केक का बैटर तैयार कर लें।
केक के बर्तन को तेल से ग्रीस कर लें और तैयार केक का बैटर ग्रीज़ किये हुए बर्तन में डालें।
एग्ग्लेस स्ट्रॉबेरी केक को 180 डेग्री C पर 30 से 35 मिनट के लिए बेक करें।
केक तैयार है या नहीं यह चेक करने के लिए टूथपिक या चाक़ू को बीच में मारें. टूथपिक साफ़ बहार आने पर समझे केक तैयार है। अगर बटर टूथपिक साथ बहार आये तो और 5 मिनट के लिए बेक करें।
केक को 5 मिनट के लिए ठंडा होने रख दें।
केक के पैन में चारों तरफ चाकु मार कर केक को बहार निकाल कर ठंडा होने दें।
विप्ड क्रीम से केक को सजा कर परोसें।
Strawberry Cake Recipe in Hindi – स्ट्रॉबेरी केक kaise banaye: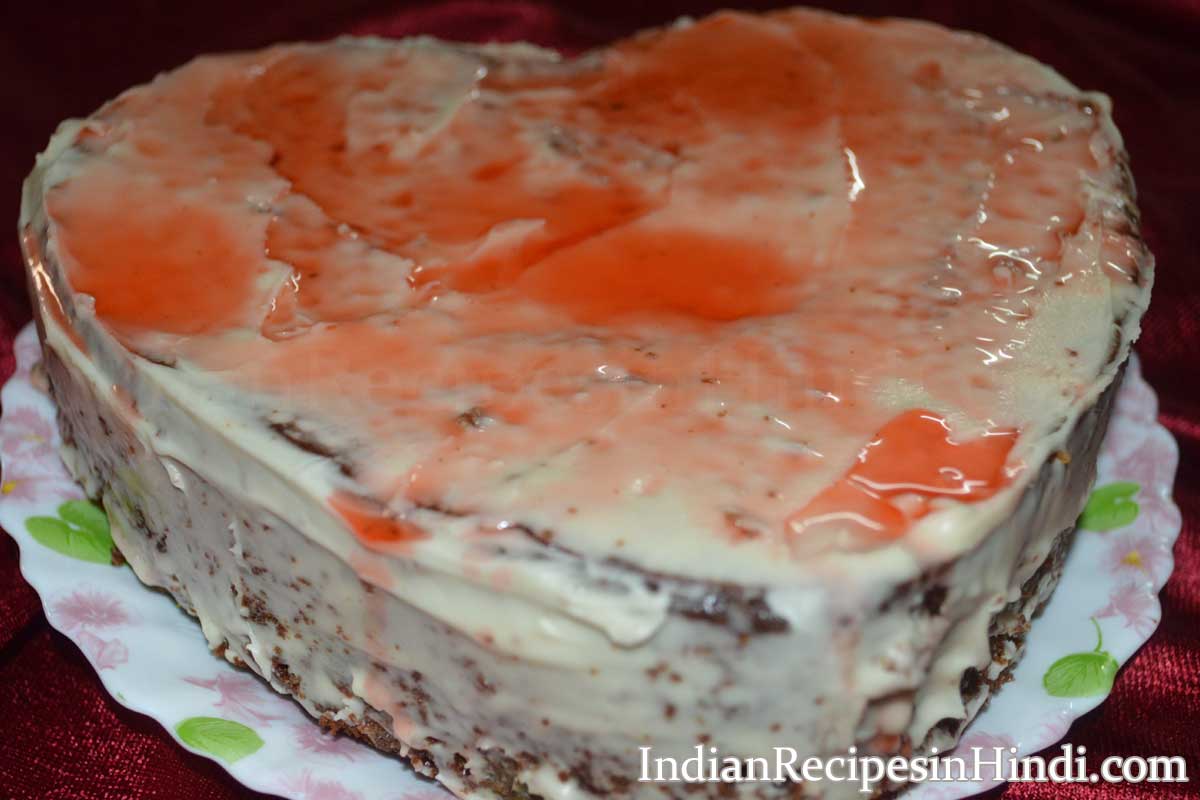 How to make Strawberry Cake without egg (स्ट्रॉबेरी का केक banane ki vidhi) Step by Step Guide Hindi mein:
Oven ko preheat kar lein.
Ek bartan mein sabhi sookhi samagri , maida, baking powder, baking soda aur namak ko mila lein.
Ek alag bartan mein tel ya butter ko achhe se mila lein.
Strawberry ki puree ko tel aur chini mein milayein.
Adha adha karke sookhi samagri ko tel chini ke mishran mein milayein. Batter ko zyada phente nahi.
Zarurat anusaar doodh mila kar na zyada patla na zyada gaadha batter taiyaar kar lein.
Cake ke bartan ko tel ya ghee se grease kar lein aur taiyaar batter ko grease kiye hue bartan mein daalein.
Eggless strawberry cake ko 180 degree C par 30 se 35 minute ke liye bake karein.
Cake taiyaar hai ya nahi yeh check karne ke liye toothpick ya chaku ko cake ke beech mein maarein.
Toothpick saaf bahar aane par samjhe ki cake taiyaar hai. Agar toothpich saath batter bhi bahar aaye to 4 minute aur bake karein.Cake ko 5 minute ke liye thanda hona rakh dein.
Cake ke pan mein charon taraf chaaku maar kar cake ko bahar nikaal lar thanda hone dein.
Whipped cream se cake ko saja kar serve karein.
Save
Spread the Love - Share Our Recipes