फ्रूट क्रीम रेसिपी – Fruit Cream Recipe in Hindi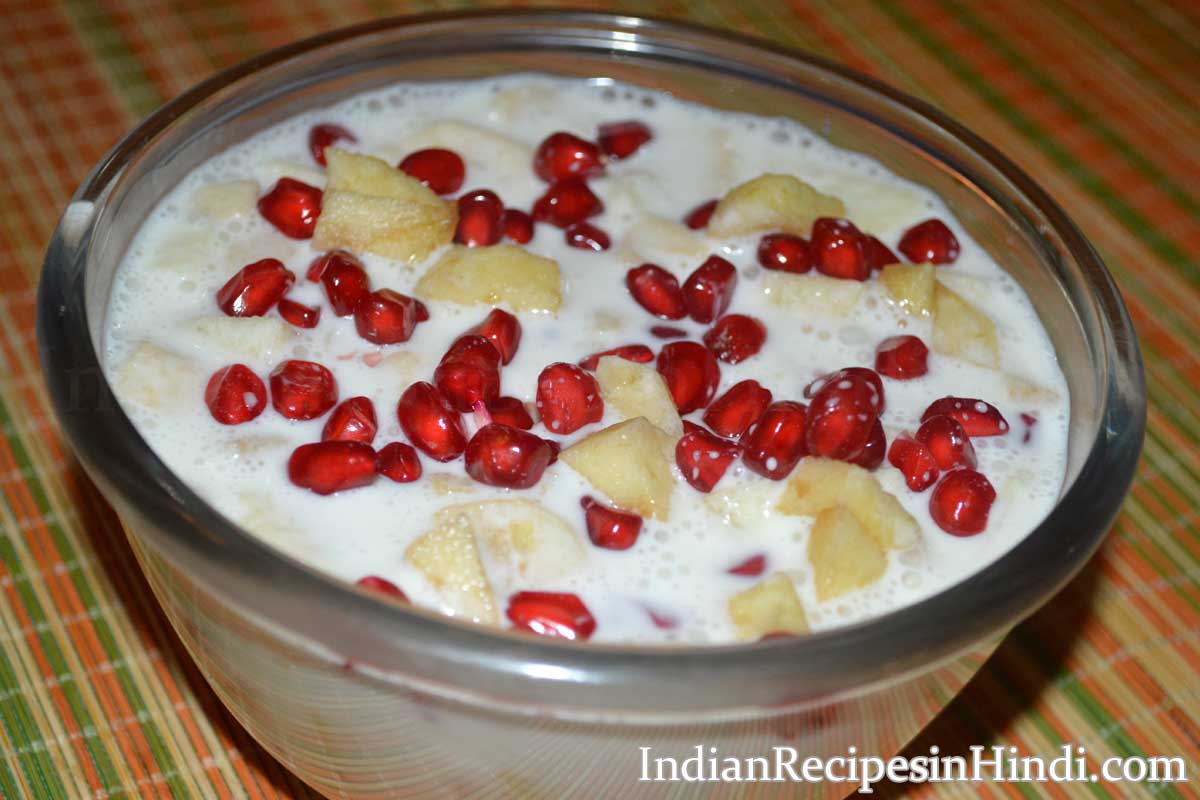 Ingredients:
हेवी क्रीम या मलाई – 2 कप
पिसी चीनी – 2 बड़े चम्मच
सेब – 1
केला – 1
नाशपाती – 1
अमरूद – 1
अनार के दाने – 1 बड़ा चम्मच
ड्राइ फ्रूट्स – 1 बड़ा चम्मच, बारीक कटा
Instructions:
एक बर्तन में क्रीम या मलाई लें और बूरा डाल कर मिला लें, मलाई को ज़्यादा फेंटे नही, नही तो मलाई का मक्खन बन जाएगा। आप चाहें तो मिक्सी में भी मलाई और बूरा मिला सकते हैं।
सभी फल, सेब, केला, नाशपाती, अमरूद को बारीक, समान साइज़ के काट लें।
अनार के दाने निकाल लें और ड्राइ फ्रूट्स को बारीक काट लें।
मीठी मलाई में कटे हुए फल, अनार के दाने और बारीक कटे ड्राइ फ्रूट्स डाल कर मिला लें।
तैयार फ्रूट क्रीम को ठंडा करने के लिए 1 से 2 घंटे फ्रिज में रख दें।
खाने के बाद मीठे में मेहमानों को स्वादिष्ट और ठंडी ठंडी फ्रूट क्रीम परोसें और आप भी खायें।
Notes
आप चाहें तो अपनी पसंद से फल फ्रूट क्रीम में डाल सकते हैं या हटा सकते हैं।
स्वाद को और बढ़ाने के लिए, क्रीम में चीनी के साथ 1 बड़ा चम्मच रूहअफजा को भी मिला सकते हैं।
Fruit Cream Recipe in Hindi – फ्रूट क्रीम kaise banaye: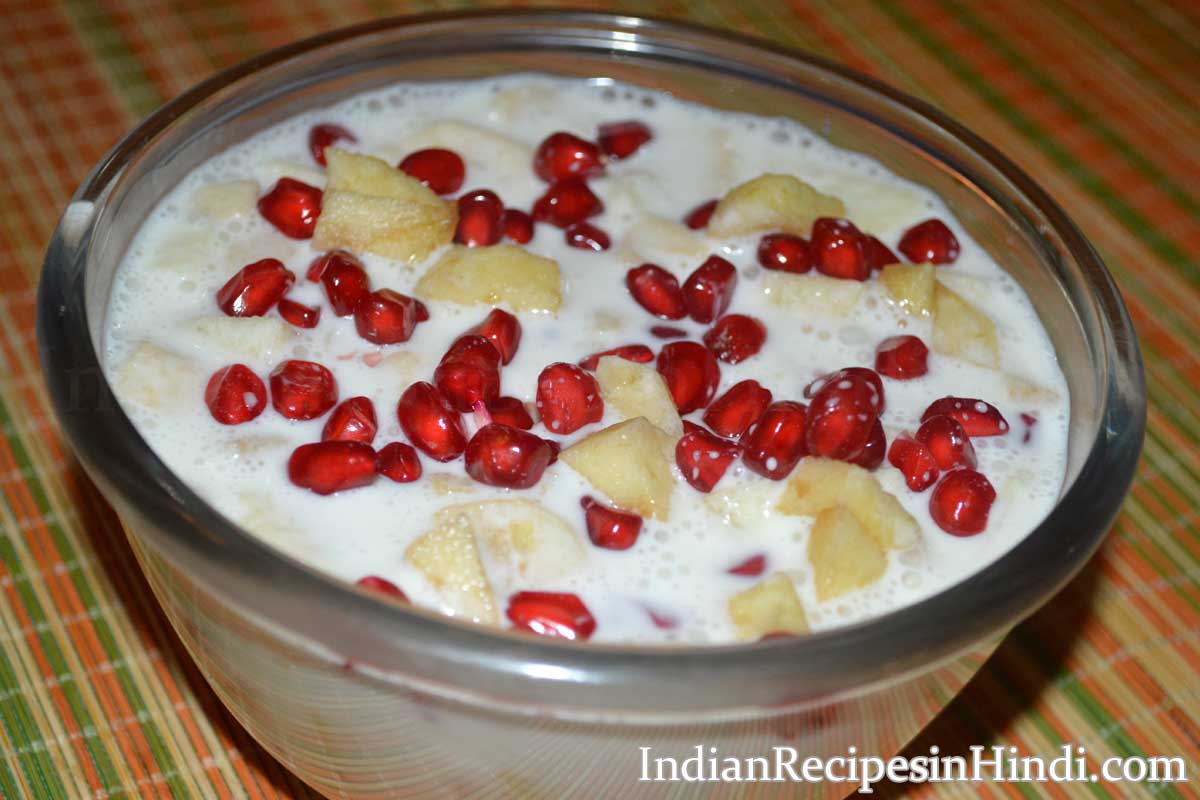 How to make Fruit Cream (फ्रूट क्रीम banane ki vidhi) Step by Step Guide Hindi mein:
Ek bartan mein cream ya malai lein aur boora daal kar mila lein, Malai ko zyada phente nahi , nahi to malai ka makhan ban jayega. Aap chahein to mixi mein bhi malai mein boora mila sakte hain.
Sabhi phal seb, kela , nashpati, amrood ko bareek, samaan size ke kaat lein.
Anar ke daane nikaal lein aur dry fruits ko bareek kaat lein.
Meethi malai mein kate hue fruits, anar ke daane aur bareek kate dry fruits daal kar mila lein.
Tiayaar fruit cream ko thanda karne ke liye 1 se 2 ghante fridge mein rakh dein.
Khane ke baad meethe mein mehmanon ko swadisht aur thandi thandi fruit cream parosein aur aap bhi khayein.
Note:
Aap chahein to apni pasand se phal fruit cream mein daal sakte hain ya hata sakte hain.
Swaad ko aur badhane ke liye, cream mein chini ke saath 1 bada chammach roohafza ko bhi mila sakte hain.
Save
Save
Spread the Love - Share Our Recipes