गोंद के लडडू खाने से आप ठंड से बचे रहते हैं, खुद भी खायें और अपने प्रियजनों को भी खिलाएं। यह लडडू कमर दर्द के लिए भी बहुत लाभदायक हैं। तो आइए जाने स्वादिष्ठ गोंद के लडडू बनाने का तरीका।
गोंद के लड्डू रेसिपी- Gond ke Laddu Recipe | Gond Ladoo in Hindi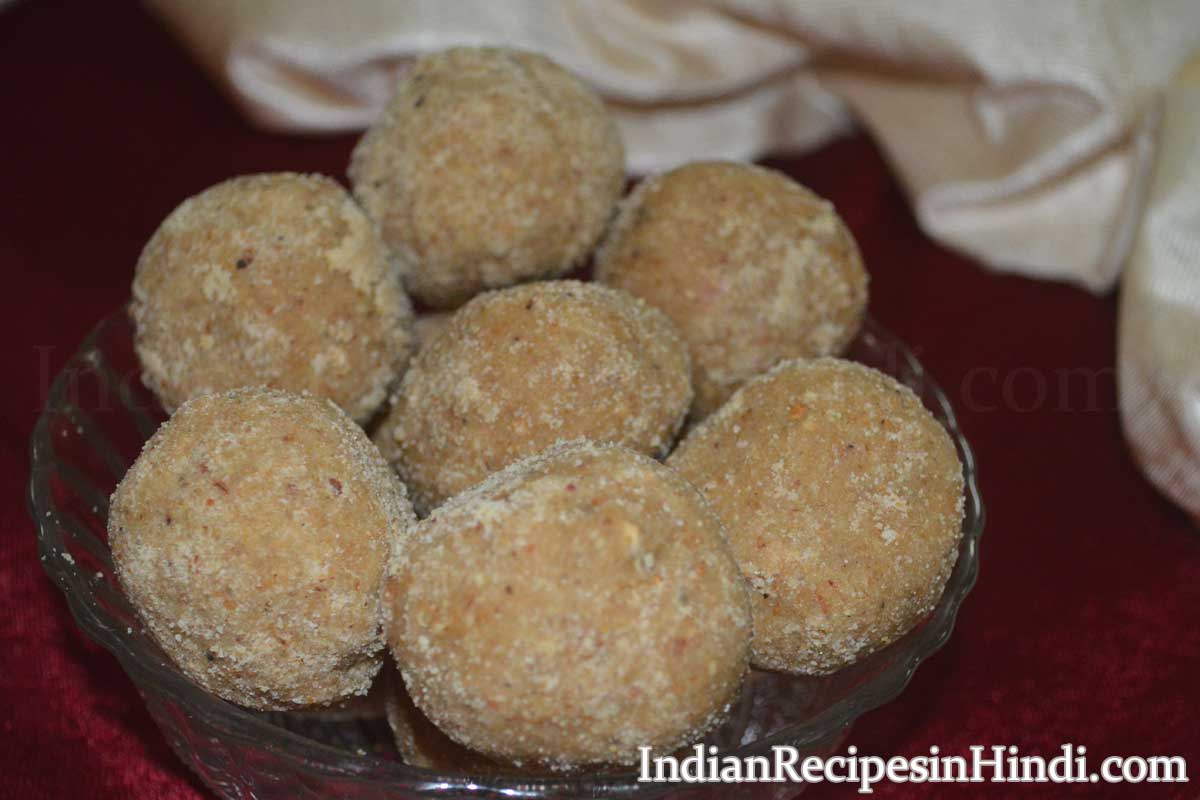 Ingredients:
गोंद – 100 ग्राम
गेहूं का आटा – ½ किलो
देसी घी – 300 ग्राम
सूखा नारियल – ½ कप
पिसी चीनी – ½ किलो
बादाम – ½ कप, बारीक कटा
काजू – ½ कप, बारीक कटा
Instructions:
मोटे तले की कड़ाही में घी गरम कर के मध्यम आँच पर गोंद तल लें, गोंद फूलने पर एक प्लेट में निकाल लें, गोंद ठंडी होने पर मिक्सी में उसे दरदरा पीस लें।
सूखा नारियल भी मिक्सी में बारीक पीस लें।
धीमी आँच पर आटे को सुनहेरा खुश्बू आने तक भून लें। आटा भूनने में थोड़ा समय लगेगा, आटा जले नही इसलिए धीमी आँच पर उसे चलाते रहें।
कड़ाही को जब गैस से उतारे तो कड़ाही ठंडी होने तक आटा चलाते रहें या भुने आटे को किसी थाल में निकाल लें ताकि आटा जले नही।
आटा जब ठंडा हो जाए तब इसमे दरदरा पिसा गोंद, पिसा हुआ सूखा नारियल, बारीक कटे ड्राइ फ्रूट्स, पिसी चीनी डाल कर अच्छे से मिक्स कर दें और लडडू का आकार दें।
स्वादिष्ठ गोंद के लडडू तैयार हैं, सर्दियों के मौसम में इनका आनंद लें।
Gond ke Laddu Recipe in Hindi – घर पर गोंद के लड्डू kaise banaye: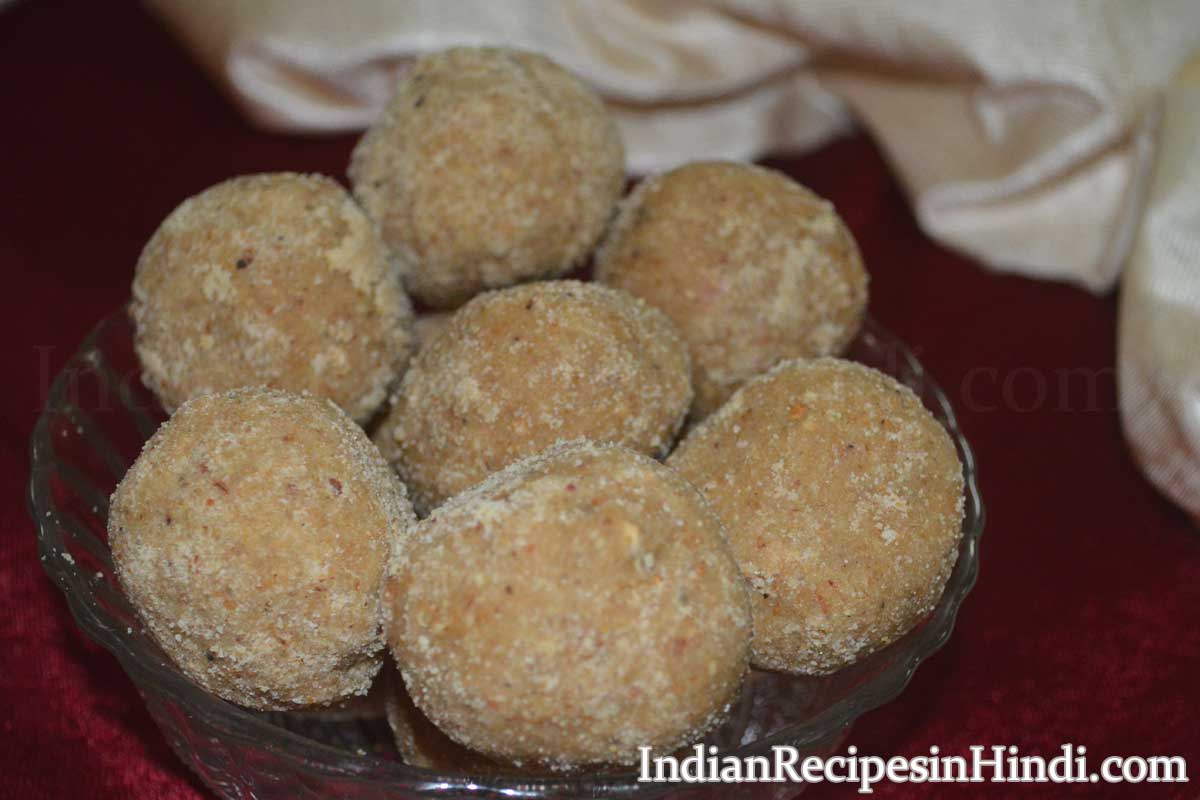 How to make Gond Sweet Ladoo (गोंद के लड्डू banane ki vidhi) Step by Step Guide Hindi mein:
Mote tale ki kadhai mein ghee garam kar ke madhyam aanch par gond tal lein, gond phoolne par ek plate mein nikaal lein, gond thandi hone par mixi mein use dardara pees lein.
Sookha nariyal bhi mixi mein bareek pees lein.
Dheemi aanch par aate ko sunhera khushboo aane tak bhoon lein. Aata bhoonne mein thoda samay lagega, aata jale nahi isliye dheemi aanch par use chalaate rahein.
Kadahi ko jab gas se utarein to kadhai thandi hone tak aata chalaate rahein ya bhune aate ko kisi thaal mein nikaal lein taaki aata jale nahi.
Atta jab thanda ho jaye tab isme dardara pisa gond, pisa hua sookha nariyal. bareek kate dry fruits, pisi chini daal kar achhe se mix kar dein aur laddu ka aakaar dein.
Swadisth gond ke laddu taiyaar hain, sardiyon ke mausam mein inka anand lein.
Spread the Love - Share Our Recipes