आम बना यह ठंडा और मीठा मेंगो शेक बहुत ही स्वादिष्ट होता है। गर्मियों में मेंगो शेक पीने में बहुत आनंद आता है। ज़्यादातर लोग मेंगो मिल्कशेक और केले का शेक नाश्ते में बहुत पसंद करते है।
अगर आपके बच्चों को दूध पीना पसंद नही तो आप उन्हे यह स्वादिष्ठ और पौष्टिक आम का शेक बना कर दे सकते हैं, मेंगो शेक उन्हे यक़ीनन पसंद आएगा।
तो आइए आज हम सीखें मेंगो शेक बनाने का तरीका।
Mango Shake Recipe Ingredients:
आम (mango) – 2
दूध (milk) – 2 ग्लास
इलाइची पाउडर (elaichi powder) – ¼ टी स्पून
चीनी (sugar) – 3 बड़े चम्मच या स्वादानुसार
Mango Shake Recipe Instructions / Banane ki Vidhi:
आम को धो कर छील लें।
आम को टुकड़ो में काट लें और गूदा निकाल लें।
कटे हुए आम और चीनी को मिक्सर में डाल कर ब्लेंड करें।
फिर इसमे दूध और इलाइची पाउडर डाल कर एक बार और ब्लेंड करें।
मिक्स होने पर त्यार मैंगो शेक को ग्लास में डाल कर सर्व करें।
Mango Shake Recipe in Hindi – Mango Shake Kaise Banaye: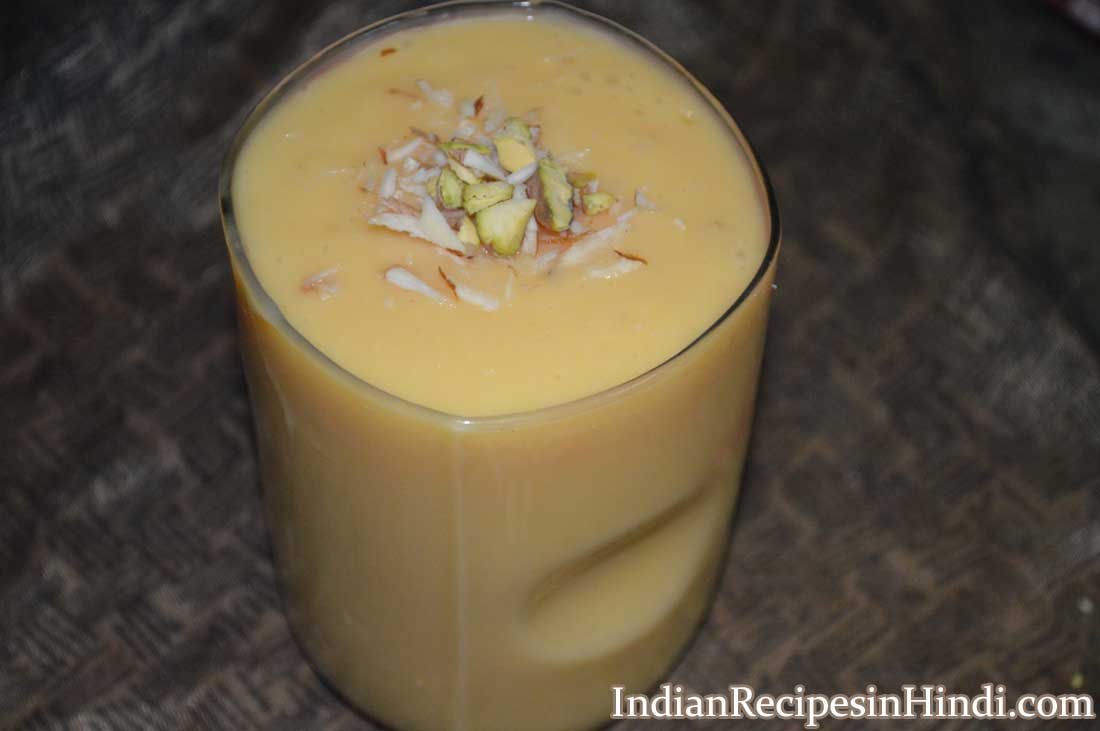 How to make Mango Shake (Banane ki Vidhi) Step by Step Guide Hindi mein:
To read Mango Milkshake recipe in English, click here:
Aam ko dho kar cheel lein.
Aam ko tukdo mein kaat lein aur gooda nikaal lein.
Kate hue aam aur cheeni ko mixer mein daal kar blend karein.
Phir isme dhoodh aur elaichi powder daal kar ek baar blend karein.
Mix hone par tyaar mango shake ko glass mein daal kar serve karein.
Spread the Love - Share Our Recipes