ऑरेंज केक रेसिपी – Eggless Orange Cake Recipe | Santre ka Cake in Hindi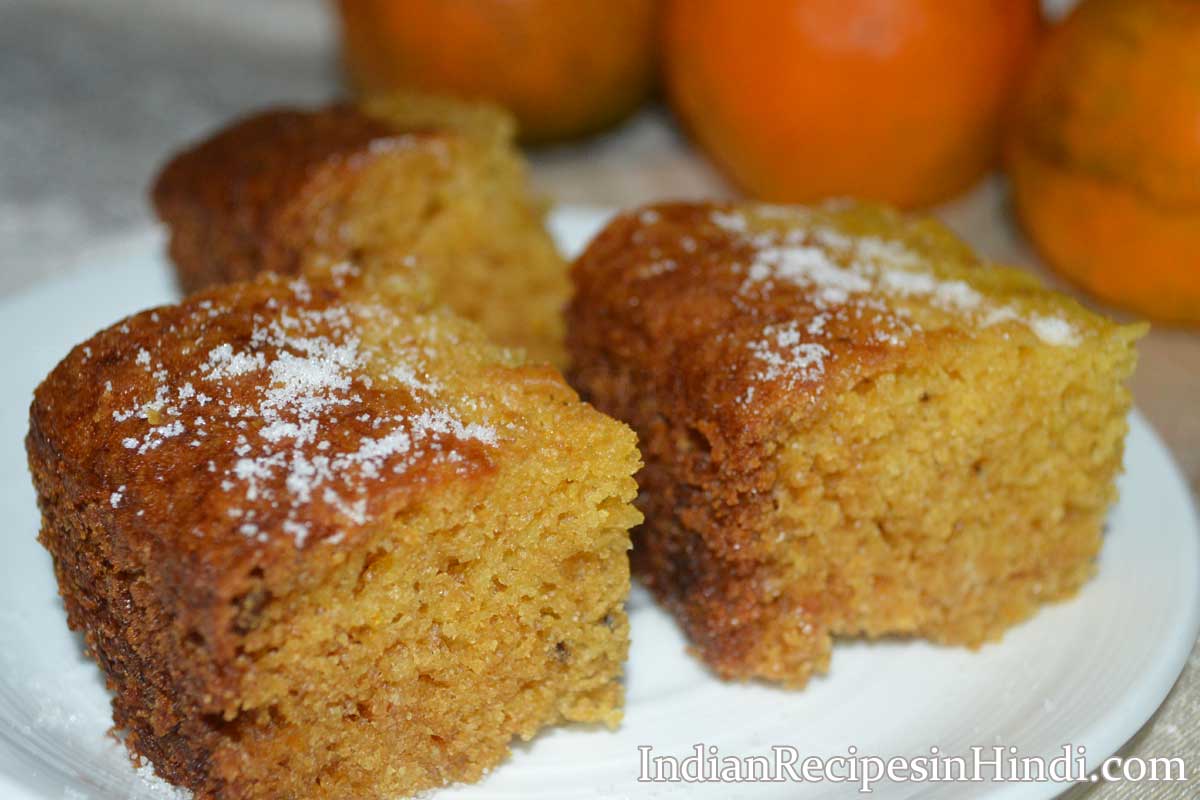 Ingredients:
मैदा – 1 + ½ कप
बेकिंग सोडा – ½ चम्मच
बेकिंग पाउडर – ½ चम्मच
नमक – 1 चुटकी
संतरे का रस – 1 कप
पिसी चीनी – 1 कप
तेल या बटर – ½ कप
ऑरेंज ज़ेस्ट – ½ चम्मच
Instructions:
माइक्रोवेव ओवन को 10 मिनट के लिए प्रीहीट कर लें।
ऑरेंज ज़ेस्ट निकालने के लिए साबुत संतरे के उपर से ऑरेंज भाग तक कद्दूकस कर लें, सफेद हिस्से को कद्दूकस ना करें क्योंकि वो कड़वा होता है।
अगर आप ताज़ा संतरे का रस इस्तेमाल करेंगे तो केक बनाते समय ही संतरे का रस निकालें नहीं तो ज़्यादा देर तक रखा संतरे का रस कड़वा हो जाता है।
संतरे का केक बनाने के लिए एक बर्तन में सभी सूख सामग्री को मिला लें।
सुखी सामग्री में तेल को मिला लें।
संतरे का ताज़ा रस और ऑरेंज ज़ेस्ट भी मिला लें और केक का बैटर तैयार कर लें।
बैटर को ग्रीस किए हुए केक के बर्तन में डालें और प्रीहीट किए हुए माइक्रोवेव में 30 से 35 मिनिट के लिए बेक करें।
केक को पकने के समय से 2 से 3 मिनट पहले टूथपिक से चेक करें की वो तैयार है की नही। (केक के बीच में टूथपिक डाल कर चेक करे)
केक तैयार होने पर उसे 10 मिनट पैन में ही ठंडा होने दें।
इस क्रिस्मस स्वादिष्ठ ऑरेंज केक का आनंद लें।
Eggless Orange Cake Recipe in Hindi – एग्ग्लेस ऑरेंज केक kaise banaye: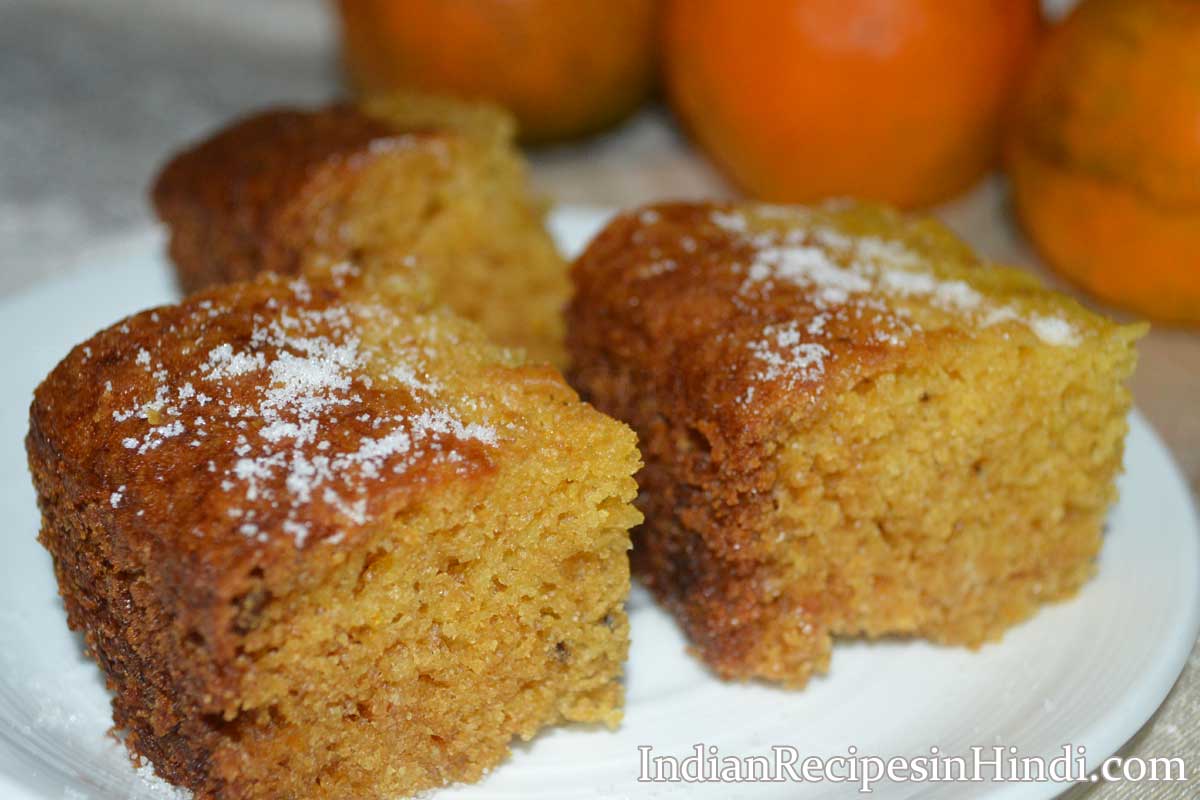 How to make Orange Cake (एग्ग्लेस ऑरेंज केक Banane ki Vidhi) Step by Step Guide Hindi mein:
Microwave oven ko 10 minute ke liye preheat kar lein.
Orange zest nikaalne ke liye sabut santre ke upar se orange bhaag tak kadukas kar lein, safed hisse ko kadukas na karein kyon wo kadwa hota hai.
Agar aap tazaa santre ka ras istemaal karenge to cake banate samay hi santre ka ras nikalein nahi to zyada der tak rakha santre ka ras kadwa ho jata hai.
Santre ka cake banane ke liye ek bartan mein sabhi sookh samagri ko mila lein.
Sukhi samagri mein tel ko mila lein.
Santre ka tazaa ras aur orange zest bhi mila lein aur cake ka batter taiyaar kar lein.
Batter ko grease kiye hue cake ke bartan mein daalein aur preheat kiye hue microwave mein 30 se 35 minute ke liye bake karein.
Cake ko pakne ke samay se 2 se 3 minute pehle toothpick se check karein ki wo taiyaar hai ki nahi. Cake ke beech mein toothpick daal kar check kare.
Cake taiyaar hone par use 10 minute pan mein hi thanda hone dein.
Iss Christmas swadisth orange cake ka anand lein.
Spread the Love - Share Our Recipes