Eggless Semolina Cake Recipe – सूजी केक रेसिपी हिंदी में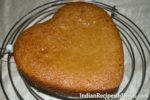 Ingredients:
भुनी हुई सूजी (Roasted Semolina)- ½ कप
दूध (Milk) – 1 कप
मैदा (All Purpose Flour) – 1 कप
बेकिंग पाउडर (Baking Powder) – 1 चम्मच
बेकिंग सोडा (Baking Soda) – 1 चम्मच
नमक (Salt) – 1 चुटकी
चीनी (Sugar) – ¾ कप
बटर या घी (Butter) – ⅓ कप
वेनिला एसेंस (Vanilla essence) – 1 चम्मच
काजू (Cashew) – 1 बड़ा चम्मच (कटा हुआ)
किशमिश (Raisins) – ¼ कप
Instructions:
भुनी हुई सूजी को 1 कप दूध में 10 मिनिट के लिए भिगो कर रख दें।
माइक्रोवेव को 180 डिग्री C पर प्रीहीट कर लें।
एक बर्तन में मैदा, भीगी हुई सूजी और दूध को अच्छे से मिला लें।
मैदा और सूजी में बटर, चीनी, वनीला एसेंस, एक चुटकी नमक, काजू और किशमिश डाल कर अच्छे से मिलाएं।
मिश्रण में बेकिंग पाउडर और बेकिंग सोडा डाल कर मिलाएं। बैटर को ज़्यादा फेंटे नही।
बैटर अगर ज़्यादा गाढ़ा लगे तो कुछ चम्मच दूध मिला कर केक के लिए बैटर तैयार कर लें। बैटर ना ज़्यादा गाढ़ा हो और पतला भी ना हो।
तैयार बैटर को बटर से ग्रीस किए हुए माइक्रोवेव सेफ काँच के बर्तन में डालें।
प्रीहीट किए हुए माइक्रोवेव में बैटर को रखें और 180 डिग्री C पर ३० से ३५ मिनिट के लिए बेक करें।
केक में टूथपिक या चाकू मार कर चेक करें की केक तैयार है की नही। टूथपिक या चाकू साफ़ बाहर आने पर समझे की केक तैयार है।
केक को सामान्य तापमान पर ठंडा कर लें।
स्वादिष्ट सूजी के केक को ठंडा कर के उसका आनंद लें।
How to make sooji cake without egg – सूजी का केक कैसे बनाएं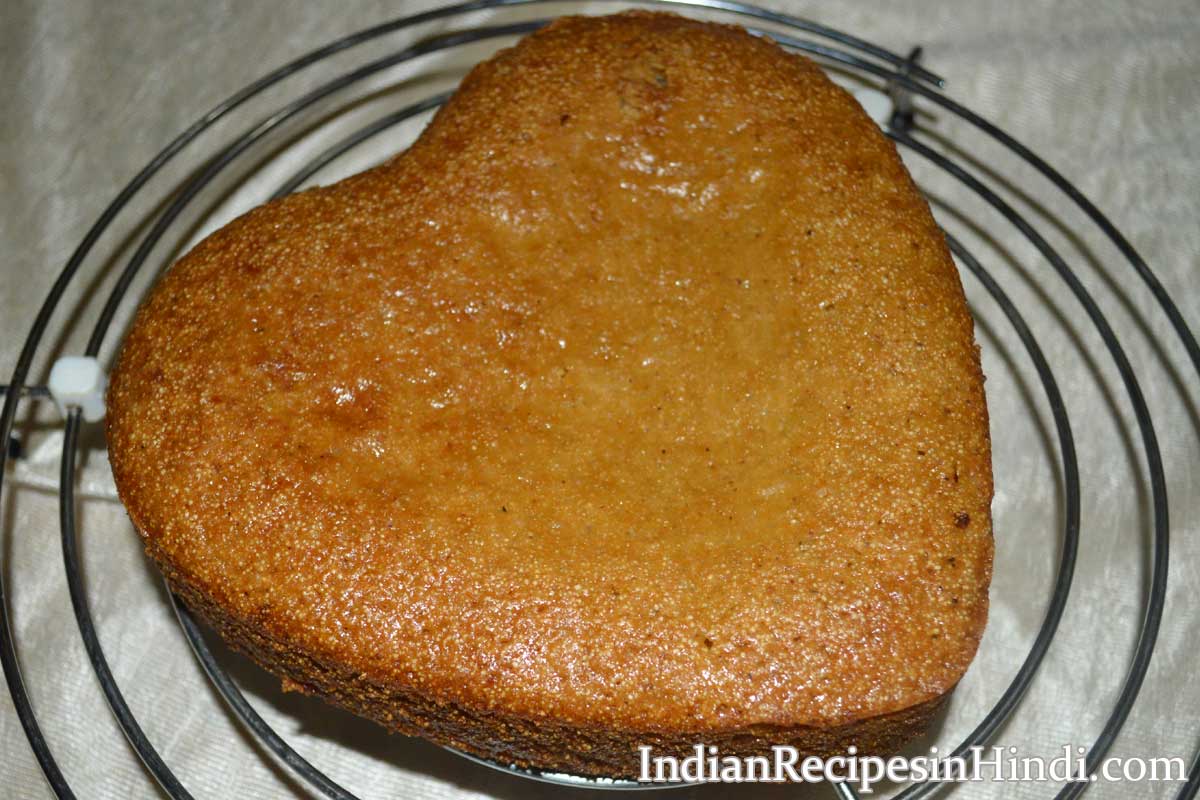 Suji ka cake banane ki vidhi – Step by Step guide Hindi mein –
Bhooni hui sooji ko 1 cup doodh mein 10 minute ke liye bhigo kar rakh dein.
Microwave ko 180 degree C par preheat kar lein.
Ek bartan mein maida, bheegi hui sooji aur doodh ko ache se mila lein.
Maida aur sooji mein butter, cheeni, vanila essense, namak, kaju aur kishmish daal kar ache se milayein.
Mishran mein baking powder aur baking soda daal kar ache se milayein. Batter ko zyada phente nahi.
Batter agar zyada gaadha lage to kuch chammach doodh mila kar cake ke liye batter taiyaar kar lein. Batter na zyada gaadha ho aur patla bhi na ho.
Taiyaar batter ko butter se grease kiye hue microwave safe kaanch ke bartan mein daalein.
Preheat kiye hue microwave mein batter ko rakhein aur 180 degree C par 30 minute ke liye bake karein.
Cake mein toothpick ya chaku maar kar check karein ki cake taiyaar hai ki nahi. Toothpick ya chaku saaf bahar aane par samjhe ki cake taiyaar hai.
Cake ko room temperature par thanda kar lein.
Swadisth sooji ke cake ko thanda kareke uska anand lein.
Note:
Sooji ke cake ko aap air tight bartan mein daal kar fridge mein 1 hafte ke liye store kar sakte hain.
Cake ke batter ko zyada phente nahi.
Save
Save
Spread the Love - Share Our Recipes