Ingredients:
मैक्रोनी – 2 कप
टमाटर – 2, बारीक कटा
स्वीट कॉर्न – ½ कप, उबला हुआ
शिमला मिर्च – 1, लंबाई में बारीक कटा
लहसुन – 15 से 20 कलियाँ (बारीक कटा)
काली मिर्च पाउडर – ½ चम्मच
ऑरेगैनो – 1 चम्मच (ऑप्शनल)
मायोनीज़ – 2 बड़े चम्मच (ऑप्शनल)
रिफाइंड ऑइल – 2 बड़ा चम्मच
नमक – स्वादानुसार
Instructions:
एक पैन में पानी उबलना रखें। एक उबाला आने पर पानी में ½ चम्मच तेल और 1/2 चम्मच नमक डाल कर मिला लें और मैक्रोनी डालकर उबाल ले। मैक्रोनी नरम होने पर मोटी छलनी पर निकाल कर ठंडे पानी से धो लें और एक प्लेट पर फैला लें।
एक कड़ाही में 2 बड़े चम्मच तेल गरम करके लहसुन भून लें।
लहसुन की खुश्बू आने पर कटे टमाटर डालें और टमाटर जब तेल छोड़ जायें तब कड़ाही में शिमला मिर्च और उबले हुए स्वीट कॉर्न डालें।
सब्ज़ियों को 2 से 3 मिनिट मध्यम आँच पर पकाएं।
कड़ाही में अब उबली हुई मकरोनी और स्वादानुसार नमक डाल कर मिलायें।
अगर आप चाहें तो मकरोनी में मेयोनेज़ भी डाल सकते हैं।
तैयार मैक्रोनी पर ऑरेगेनो छिड़क कर टोमेटो सॉस के साथ सर्व करें।
Serving size: 3-4
Veg Macaroni Recipe in Hindi – वेज मैकरोनी कैसे बनती है :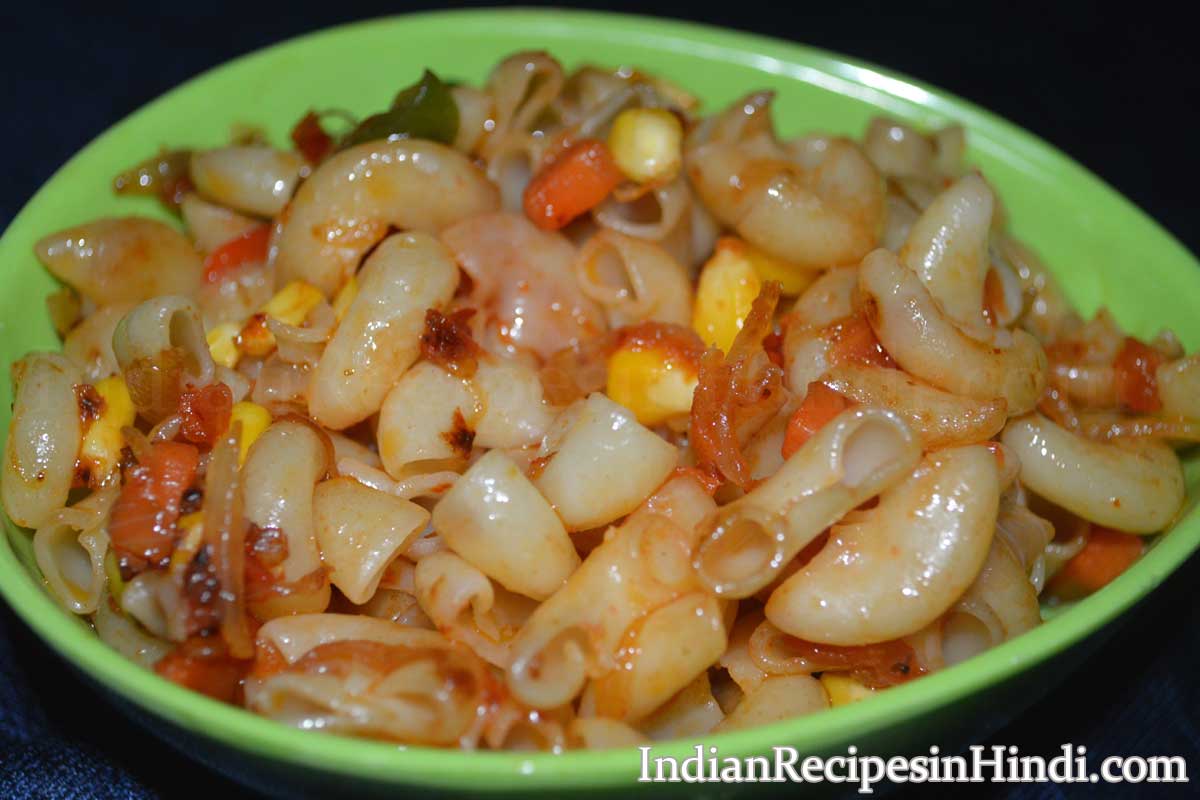 How to make Veg Macaroni at home – Macaroni pasta banane ki vidhi:
Ek pan mein paani ubalna rakhein. Ek ubala aane par paani mein ½ chammach tel aur 1/2 chammach namak daal kar mila lein aur macroni daalkar ubaal lei. Macroni naram hone par moti chalni par nikaal kar thande paani se dho lein aur ek plate par faila lein.
Ek kadahi mein 2 bade chammach tel garam karke lehsun bhoon lein.
Lehsun ki khushbu aane par kate tamatar daalein aur tamatar jab tel chhor jayein tab kadahi mein shimal mirch aur ubale hue sweet corn daalein.
Sabziyon ko 2 se 3 minutes madhyam aanch par pakayein.
Kadahi mein ab ubali hui macroni aur swadanusaar namak daal kar milayein.
Agar aap chahein to macroni mein mayonnaise bhi daal sakte hain.
Tyaar macroni par oregano chhidak kar tomato sauce ke saath serve karein.
Summary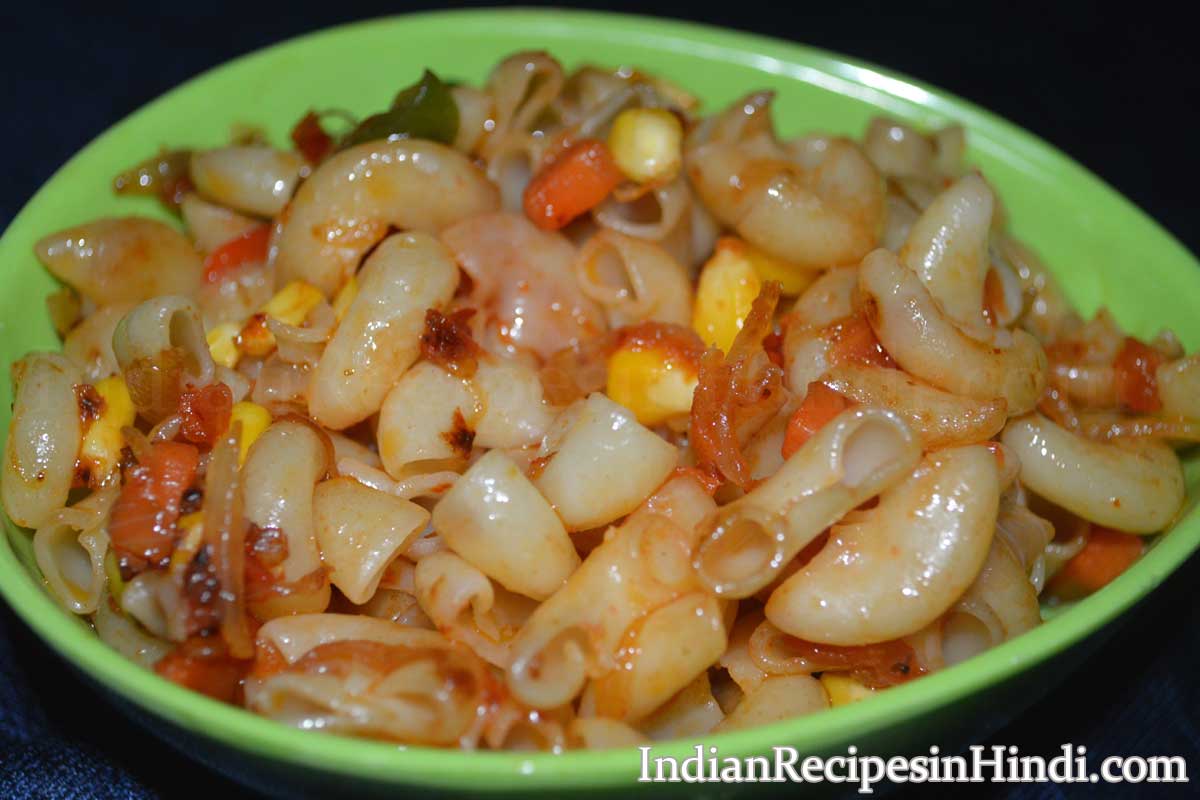 Recipe Name
वेज मैकरोनी बनाने की विधि | Indian Style Veg Macaroni Recipe
Author Name
Published On
Preparation Time
Cook Time
Total Time
Average Rating





Based on 3 Review(s)
Spread the Love - Share Our Recipes