कभी घर पर बनाएं एकदम बाजार के स्टाइल में मिक्स्ड सब्ज़ियों से बना स्वादिष्ठ चटाकेदार पचरंगा अचार।
Pachranga Achar Recipe in Hindi – पचरंगा आचार | Pachranga Mixed Pickle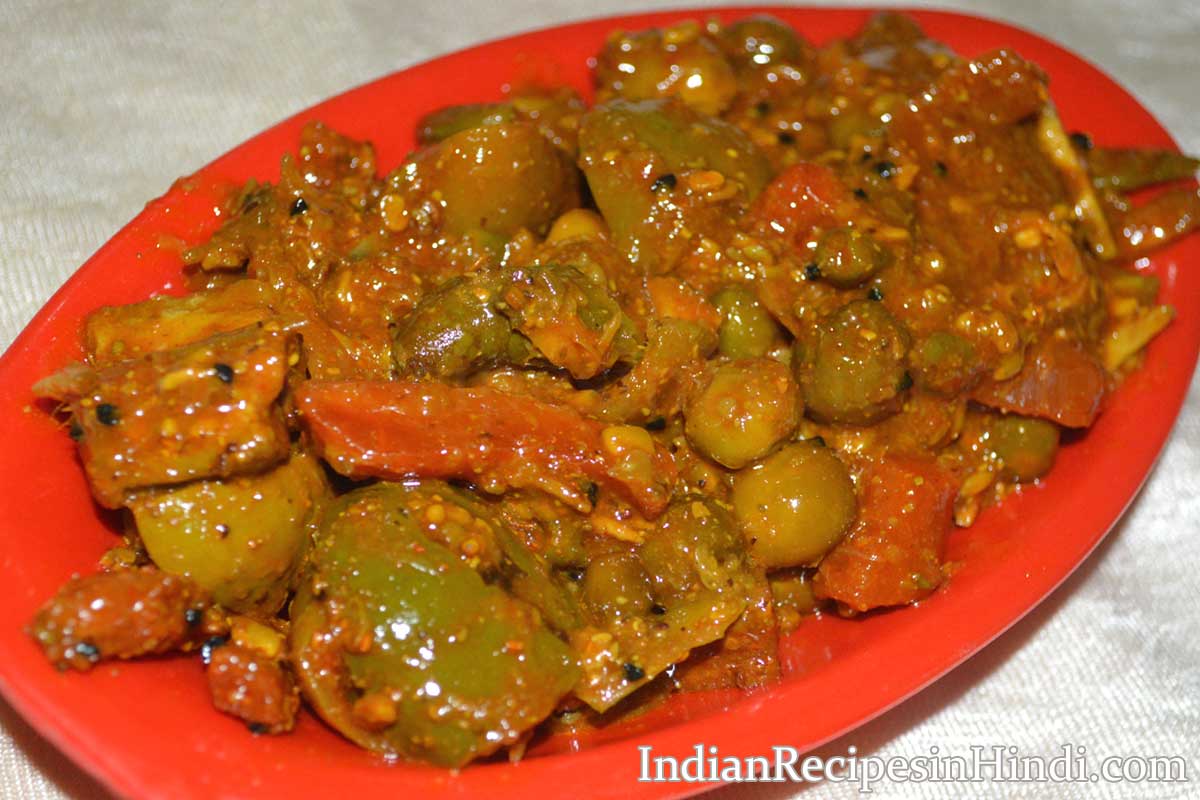 Ingredients:
कच्चा आम – 1 कप, कटा हुआ
गाजर – 1 कप, कटी हुई
टेंटी – ½ कप
अदरक – 1 कप, बारीक कटी हुई
हरी मिर्च – 1 कप, लंबाई में कटी हुई
सौंफ – 2 बड़े चम्मच
कालोंजी – 2 बड़े चम्मच
मेथी दाना – 2 बड़े चम्मच
राई – 1 बड़ा चम्मच
लाल मिर्च पाउडर – 1 बड़ा चम्मच
हल्दी पाउडर – 1 चम्मच
नमक – 3 बड़े चम्मच या स्वादानुसार
सरसो का तेल – 2 कप
Instructions:
टेंटी डेले को एक दिन के लिए नमक वाले पानी में भिगो कर रख दें और अगले दिन धो लें।
एक बर्तन में गाजर, कच्चा आम, अदरक, हरी मिर्च और डेले को अच्छे से पोच कर सूखा लें। आप चाहे तो धूप भी सुखा सकते हैं।
कड़ाही में सरसों का तेल डालकर अच्छे से गरम कर लें और फिर गैस बंद कर दें।
तेल ठंडा होने पर तेल में सौंफ, कलौंजी, मेथी दाना, राई, लाल मिर्च पाउडर, हल्दी पाउडर और नमक डालें और अच्छे से मिलायें।
अब कड़ाही में डेले, कटे हुए गाजर, कच्चे आम, अदरक और हरी मिर्च डालें और अच्छे से मिक्स करें।
त्यार स्वादिष्ठ पचरांगा मिक्स आचार को मर्तबान में रखकर 3 से 4 दिन तक धूप लगायें और खाने के साथ परोसें।
Pachranga Mixed Pickle Recipe in Hindi – पचरंगा आचार kaise banaye: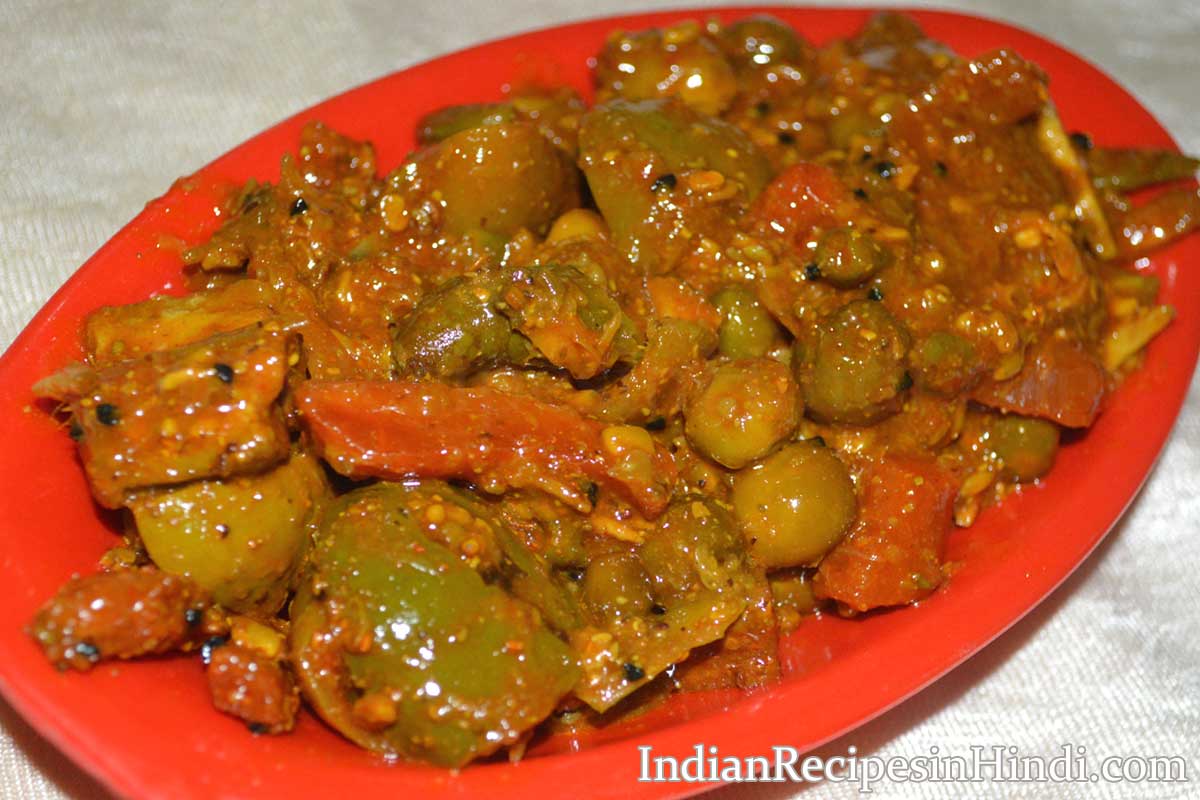 How to make mixed achar (पचरंगा आचार Banane ki Vidhi) Step by Step Guide Hindi mein:
Tenti dele ko ek din ke liye namak wale paani mein bhigo kar rakh dein aur agle din dho lein.
Ek bartan mein gajar, kaccha aam, adrak, hari mirch aur dele ko acche se poch kar sookha lein. Aap chahe to dhoop bhi sukha sakte hain.
Kadahi mein sarson ka tel daalkar acche se garam kar lein aur fir gas band kar dein.
Tel thanda hone par tel mein saunf, kalonji, meethi daana, rai, lal mirch powder, haldi powder aur namak daalein aur achhe se milayein.
Ab kadahi mein dele, kate hue gajar, kacche aam, adrak aur hari mirch daalein aur acche se mix karein.
Tyaar swadishth pachranga mix achar ko martban mein rakhkar 3 se 4 din tak dhoop lagayein aur khane ke saath parosein.
Save
Spread the Love - Share Our Recipes